How Invest for Jobs is supporting companies in Ethiopia during the COVID-19 pandemic
When the coronavirus pandemic reached Ethiopia, the Government responded immediately by taking measures to curb the spread of the virus, resulting in a five-month state of emergency being declared in April 2020. This prevented the virus from spreading rapidly, which has benefited the Ethiopian economy and the population.
The Special Initiative is supporting companies there by implementing stabilisation measures to uphold local economic structures during the crisis, maintain supply chains and preserve jobs. This is designed to promote the positive trends in Ethiopia's economic development on a long-term basis.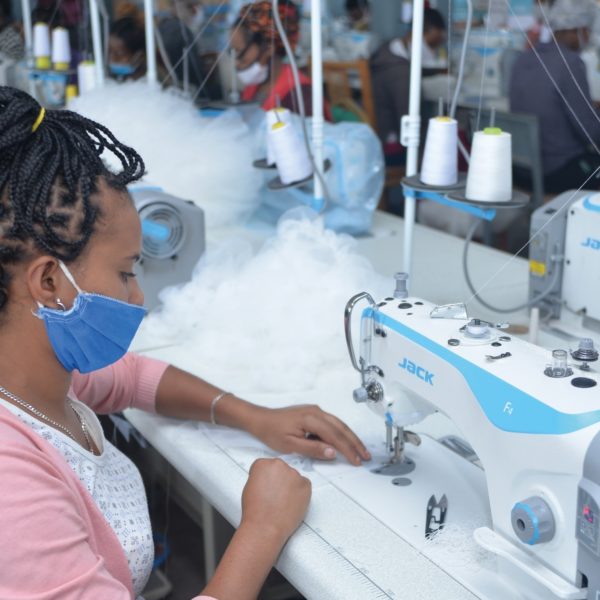 © GIZ / Solomon Shigute

Your opportunities in Africa's second-largest economy
With a population of some 112 million people, Ethiopia is now Africa's second-largest economy. Economic growth there has been among the highest in the world since the start of the new millennium. The Government is actively promoting industrial and business parks and is opening up state sectors for the private sector by pursuing economic reforms. This in turn is helping to boost the country's economy and sending out a positive signal to foreign investors: Ethiopia has seen exponential growth in foreign investment since 2012.
Regardless of which sector you operate in, we can help you identify and overcome investment obstacles and harness the promising investment opportunities that exist in Ethiopia. We offer a tailor-made package of advice, contacts and financial support. More information about our broad range of offerings is available here.
In cooperation with our Ethiopian partners, we are developing attractive business locations, including industrial and business parks, and taking targeted measures to promote growth sectors. In Ethiopia, these are the textiles industry and the agriculture and food sector. Agriculture accounts for more than 30 per cent of Ethiopia's gross domestic product (GDP) and continues to be one of the country's most attractive investment sectors. However, our activities are not limited to these sectors.
Are you a small or medium-sized Ethiopian enterprise? We can help you enhance your competitiveness or tap into new markets.
You can find further detailed information about Ethiopia and the country's current economic data here:
21
per cent
of the population is aged between 15 and 24 (2020)
30+
per cent
of GDP comes from agriculture
9
per cent
economic growth in 2019