German Cooperation and partners launch 'NEEDLES FOR GIRLS' project to provide 1,000 girls with employable skills in fashion
The 'Network for Enterprise Development Learning through Sewing (NEEDLES) for Girls' (N4G), officially launched with a "Career Day and Registration Event". The Career Day marks the opening of the project, which aims to address the lack of qualified, well-trained workers in Ghana's fashion and textile industries. With support of Invest for Jobs N4G is implemented by the Samira Empowerment and Humanitarian Projects (SEHP) and the Ghana Export-Import Bank (GEXIM BANK).
Ghana's textile and fashion industry used to be popular in the 1960s through the 1980s; after some challenges and decreases in production and employment, it has started to show signs of improvement and growth in recent years. There is huge untapped potential for Ghanaian fashion companies and for the label "Made in Ghana" to grow and compete in national and international markets. There is a high demand for qualified staff, thus creating vast opportunities for employment by producing skilled staff for fashion companies, which have the capacity to grow, expand and create jobs, thereby improving the employment situation and livelihood of several women in Ghana. The project will support selected women with vocational training up to international standards as well as soft skills training delivered by well-established, reputable fashion companies in Accra, Kumasi, and Tamale.
The N4G Career Day event attracted high-level dignitaries including ministers of state as well as the Second Lady of the Republic of Ghana, Her Excellency Madam Samira Bawumia, whose organisation – SEHP, leads implementation of the N4G project across Ghana.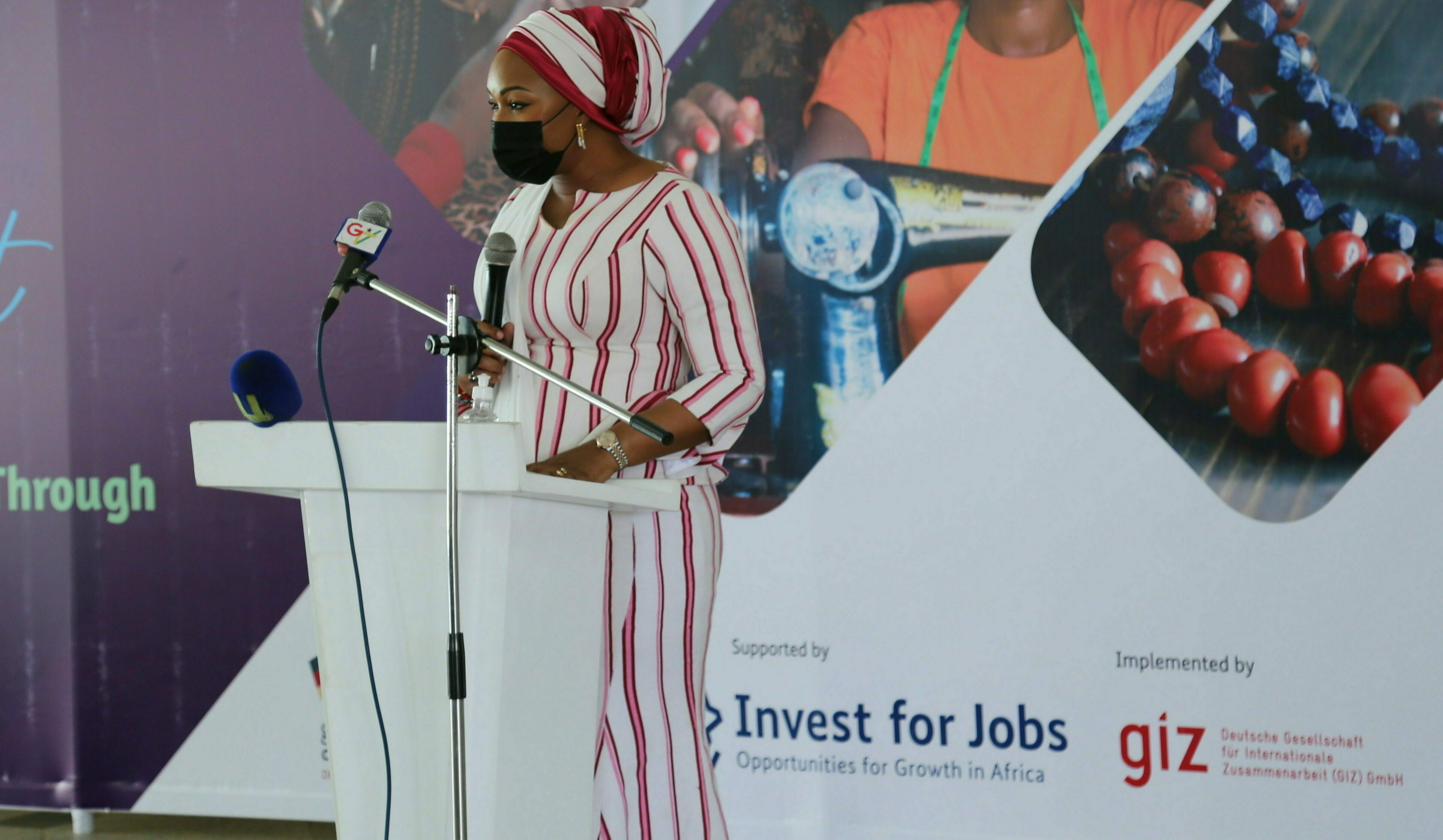 "The N4G project is expected to reach a thousand girls and young women across Ghana by 2021. Youth unemployment is a critical issue confronting national governments across the world and Ghana is no exception. I am therefore very happy to be part of this flagship N4G project that is life -changing and significant for creating jobs for vulnerable women while promoting the private sector to grow. We are very pleased to join forces with important players like SEHP and the Ghana Export-Import Bank to build on each other's strengths for sustainable economic growth," stated the Country Director of GIZ-Ghana Mad. Regina Bauerochse Barbosa.
The Career Day links the private sector including fashion companies (dressmaking, machinists, pattern drafting, fashion accessories and make-up artistry) with interested pre-screened women who have a passion for fashion (potential project beneficiaries). Specifically, the event will expose these women to a variety of career prospects, to benefit from career guidance and counselling sessions, and hands-on learning on different fashion trades of interest. Besides, this event provides opportunities for networking and exchange and facilitates the establishment of a baseline data for the N4G project.

As one of the implementing organisations of Invest for Jobs the Deutsche Gesellschaft für InternationaleZusammenarbeit (GIZ) GmbH supports the implementing parties with financing trainings and linking trainees and private sector players within the fashion value chain.